WE ARE YOUR EXPERTS IN STEEL FABRICATION IN PERTH
Established in 1993, SwedeWeld Pty Ltd is a local family owned and operated business of metal fabricators providing all types of storage solutions. Headed by business owner Kent Robin, we have gained a solid reputation for the design and manufacture of high-quality mezzanine floors, staircases, and other structural steel storage solutions.
From our extensive premises at Pavers Circle in Malaga, we are ideally located to provide our products and services all across the Perth area.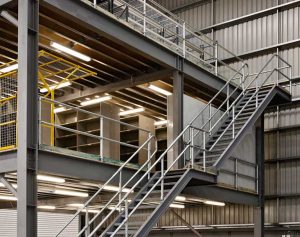 THE LOGICAL CHOICE FOR METAL FABRICATORS
FOR YOUR PROJECT 
When you choose SwedeWeld Pty Ltd for your next project, you can count on our crew for reliable and comprehensive service. From starting permits to finishing installations and everything in between, we can help you complete your next assignment promptly. Our expert staff has years of industry experience, and this experience enables us to design, manufacture and build strong, safe products.
We strictly comply with the BCA, so you can rest assured you'll receive top-quality steel fabrication products every time. We also fabricate everything in our own workshop, so we have a prompt turnaround time. And we hold ourselves to the high standards of our European heritage, so you can expect precision and attention with every project. To save money, you can also opt for our supply-only service. We'll create the part, and you can install it yourself.
If you want to learn more about our services, feel free to call Kent Robin directly and he will be happy to answer any questions you may have.