EXPERT METAL FABRICATORS IN MALAGA
When it comes to the highly specialised business of metal fabrication, you need to deal with a team of metal fabricators that you can rely upon to provide prompt and expert service. Here at SwedeWeld Pty Ltd, we are that team.
OUTSTANDING PRODUCTS FROM THE PROFESSIONAL METAL FABRICATORS
Whether you need a removable access gate for your next site or mezzanine floors for your warehouse, you can trust SwedeWeld Pty Ltd, the expert metal fabricators in Malaga. We pride ourselves on providing quality fabricated steel products to businesses across Perth. And when you need sandblasting, painting and powder coating, you can trust us to offer those too at the most competitive prices in the area.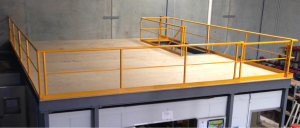 DEDICATION TO SERVICE AND CUSTOMER CARE
We are the metal fabricators that love a challenge, and we are confident that we can provide the ideal solutions for all of your office, storage and other additional space requirements. We are dedicated to providing outstanding quality products backed by the highest levels of customer care and attention to detail.
CONTACT THE EXPERT METAL FABRICATORS
Whatever specialist metal fabrication requirements you may have, our experienced team of metal fabricators have the experience and expertise to fulfill them. Talk to us today concerning your specific requirements or to arrange an on-site visit where we'll provide you with a free quote.